MJ025 - Point the Finger
This is the twenty-fifth puzzle you'll encounter in Layton's Mystery Journey: Katrielle and the Millionaires' Conspiracy. To access this puzzle, you must talk to Emiliana Perfetti. To complete the puzzle, you must determine who the bad guys are.
[edit]
Messages
[edit]
When Failed
Bad luck.
Go over the information that you have and try to narrow down who the bad guys could be.
[edit]
When Completed
You did it!
The bad guys are on the top row, in the middle and on the right.
Once you figure out that bad guys point at good guys, it's easy to spot them both.
[edit]
Solution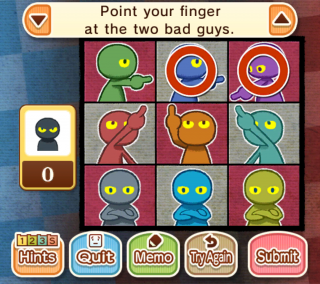 Circle the bad guys as shown.
[edit]
Progress
935 Picarats and 77 Hint Coins.
Related Threads
The white pointing finger
- last post by
@ Mar 2, 2009
Last edited by
Squiggle
on 28 August 2017 at 06:07
This page has been accessed 158 times.