MJ026 - Rainbow Rabbit
This is the twenty-sixth puzzle you'll encounter in Layton's Mystery Journey: Katrielle and the Millionaires' Conspiracy. To access this puzzle, you must investigate the teddy bear. To complete the puzzle, you must color the rabbit according to the given guidelines.
[edit]
Messages
[edit]
When Failed
Bad luck.
Double check that there's nowhere that the same colour appears next to itself.
[edit]
When Completed
You did it!
What a colourful rabbit!
Looks like it's just the way she wanted.
[edit]
Solution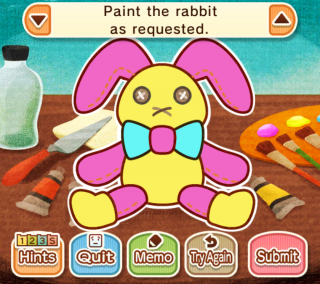 Color the rabbit as shown.
[edit]
Progress
980 Picarats and 77 Hint Coins.
Last edited by
Squiggle
on 30 August 2017 at 03:04
This page has been accessed 47 times.