MJ050 - Hem in the Hamsters
This is the fiftieth puzzle you'll encounter in Layton's Mystery Journey: Katrielle and the Millionaires' Conspiracy. To access this puzzle, you must talk to Stachenscarfen. To complete the puzzle, you must separate the hamsters into individual spaces using the three enclosures.
[edit]
Messages
[edit]
When Failed
You cannot fail this puzzle.
[edit]
When Completed
You did it!
They seem fairly calm when they're eating. Perhaps they didn't need separating after all.
[edit]
Solution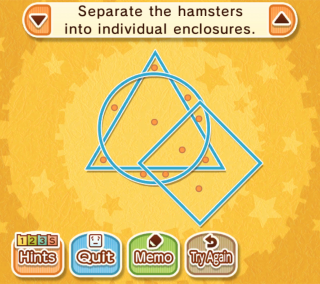 Position the enclosures as shown.
[edit]
Progress
1875 Picarats and 133 Hint Coins.
Last edited by
Squiggle
on 5 September 2017 at 03:54
This page has been accessed 120 times.