MJ057 - The Ant and the Sugar Cube
This is the fifty-seventh puzzle you'll encounter in Layton's Mystery Journey: Katrielle and the Millionaires' Conspiracy. To access this puzzle, you must investigate the bedside lamp. To complete the puzzle, you must determine the shortest route possible for the ant to reach the sugar cube.
[edit]
Messages
[edit]
When Failed
Bad luck.
Ants are clever creatures with some underhand tricks.
Try imagining the shortest route it would take.
[edit]
When Completed
You did it!
The shortest route is a straight line on the underside of the board where there are no crickets. Ants are wily creatures.
[edit]
Solution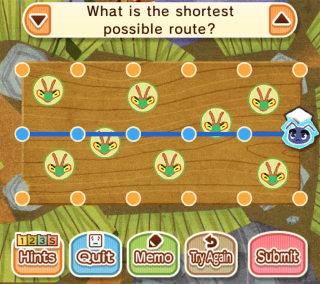 Take the route as shown.
[edit]
Progress
2180 Picarats and 148 Hint Coins.