MJ058 - Level Up
This is the fifty-eighth puzzle you'll encounter in Layton's Mystery Journey: Katrielle and the Millionaires' Conspiracy. To access this puzzle, you must talk to Stachenscarfen. To complete the puzzle, you must defeat all of the monsters to raise each hero's level to 5.
[edit]
Messages
[edit]
When Failed
Bad luck.
The heroes have run away!
[edit]
When Completed
You did it!
The monsters have all been defeated, and the heroes have levelled up.
Now they're all at level 5 - the best level to be!
[edit]
Solution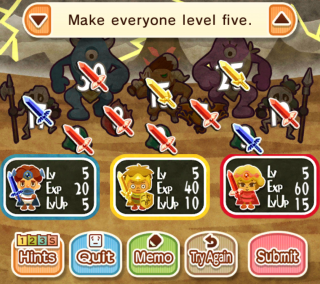 Attack the monsters as shown.
[edit]
Progress
2220 Picarats and 151 Hint Coins.
Last edited by
Squiggle
on 9 September 2017 at 04:34
This page has been accessed 45 times.