MJ064 - Deep Reflections
This is the sixty-fourth puzzle you'll encounter in Layton's Mystery Journey: Katrielle and the Millionaires' Conspiracy. To access this puzzle, you must investigate the cracked mirror. To complete the puzzle, you must reflect the light to shine on the treasure.
[edit]
Messages
[edit]
When Failed
You cannot fail this puzzle.
[edit]
When Completed
You did it!
When the light reached the treasure, it mysteriously floated up to the surface. Looks like it was searching for a new owner. There's more than one way to get the light to reach the treasure. You can do it by making four crystals bigger, or eight. Play around with it and see how many ways you can find.
[edit]
Solution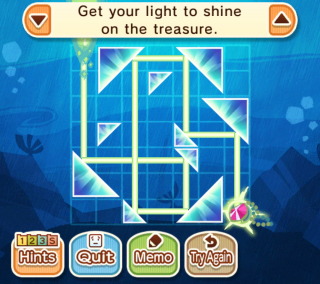 Reflect the light as shown.
[edit]
Progress
2475 Picarats and 166 Hint Coins.
Last edited by
Squiggle
on 12 September 2017 at 04:31
This page has been accessed 32 times.