MJ066 - A Black and White Conundrum
This is the sixty-sixth puzzle you'll encounter in Layton's Mystery Journey: Katrielle and the Millionaires' Conspiracy. To access this puzzle, you must talk to Liza Wight. To complete the puzzle, you must correctly place the maze pieces to reunite the ghosts of the same color.
[edit]
Messages
[edit]
When Failed
Bad luck.
The white circles show where the white ghosts are, and the black circles show where the black ghosts are. Check again to see whether the maze connect up or not.
[edit]
When Completed
You did it!
Now the black and white maze is all joined up again and the pairs of ghosts have been reunited.
Frightfully good of you!
[edit]
Solution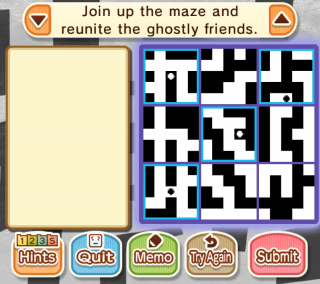 Place the maze pieces as shown.
[edit]
Progress
2575 Picarats and 166 Hint Coins.
Last edited by
Squiggle
on 12 September 2017 at 05:02
This page has been accessed 78 times.