MJ070 - Pencil Box
This is the seventieth puzzle you'll encounter in Layton's Mystery Journey: Katrielle and the Millionaires' Conspiracy. To access this puzzle, you must investigate the quill on the front desk. To complete the puzzle, you must draw four squares.
[edit]
Messages
[edit]
When Failed
You cannot fail this puzzle.
[edit]
When Completed
You did it!
You boxed off those squares nicely, but the whole lot ended up being coloured in the end.
[edit]
Solution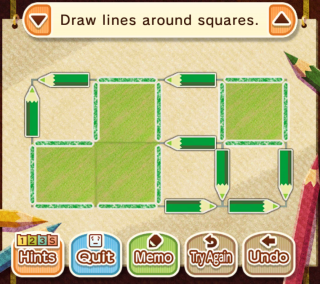 Draw the squares as shown.
[edit]
Progress
2750 Picarats and 172 Hint Coins.
Last edited by
Squiggle
on 13 September 2017 at 03:28
This page has been accessed 74 times.