MJ080 - Light Security
This is the eightieth puzzle you'll encounter in Layton's Mystery Journey: Katrielle and the Millionaires' Conspiracy. To access this puzzle, you must talk to Shadee. To complete the puzzle, you must determine which panel must be lit up first to surround the jewels.
[edit]
Messages
[edit]
When Failed
Bad luck.
The treasure is not enclosed by lit up panels.
[edit]
When Completed
You did it!
The security system has been successfully activated. Now the thief can't get anywhere near.
[edit]
Solution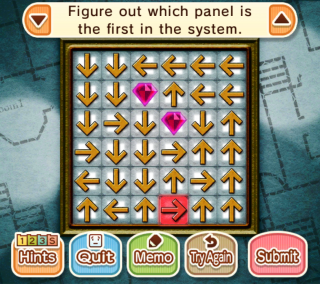 .
Light up the panel as shown.
[edit]
Progress
3135 Picarats and 202 Hint Coins.
Last edited by
Squiggle
on 15 October 2017 at 23:30
This page has been accessed 54 times.