MM004 - Bumper Perspective
This is the fourth puzzle you'll encounter in Professor Layton and the Miracle Mask. To access this puzzle, you must interact with a toy car. In order to solve this puzzle, you must identify which bumper car took the photograph.
[edit]
Messages
[edit]
When Failed
Too bad.
Start off by looking for a situation in the bumper-car arena that matches the one shown in the photo.
[edit]
When Completed
Correct!
It was the bumper car circled above.
Not a bad photo, eh? Now to decide where it goes on the wall.
[edit]
Solution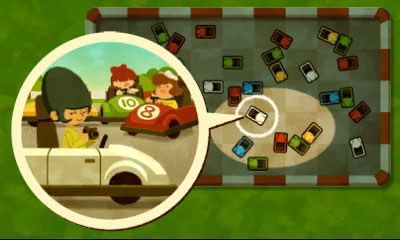 Circle the bumper car shown.
[edit]
Progress
100 Picarats and 25 Hint Coins.