MM005 - Robot Factory
This is the fifth puzzle you'll encounter in Professor Layton and the Miracle Mask. To access this puzzle, you must talk to Guy. In order to solve this puzzle, you must arrange the robot parts correctly to build the robot. After this puzzle is solved, the player will receive the Toy Robot minigame.
[edit]
Messages
[edit]
When Failed
In this puzzle, you cannot fail. Hence, no failure message is shown.
[edit]
When Completed
Correct!
Now the toy robot is fully assembled and ready to be played with!
[edit]
Solution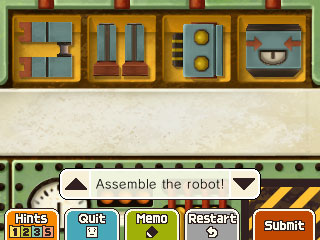 Arrange the robot parts as shown.
[edit]
Progress
135 Picarats and 25 Hint Coins.