MM007 - A Toasty Toast
This is the seventh puzzle you'll encounter in Professor Layton and the Miracle Mask. To access this puzzle, you must talk to Collette. In order to solve this puzzle, you must figure out how many circus performers are in the tent.
[edit]
Messages
[edit]
When Failed
Too bad.
Take a deep breath and try again.
[edit]
When Completed
Correct!
All members aside from the chap second from the right are present and accounted for.
Let's hope they don't stay up too late. They've got another busy day ahead of them.
[edit]
Solution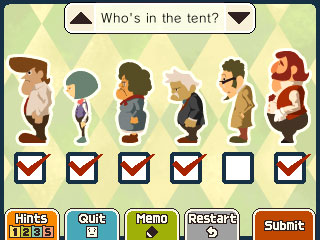 Select the characters as shown.
[edit]
Progress
185 Picarats and 43 Hint Coins.