MM011 - Backstage Blunder
This is the eleventh puzzle you'll encounter in Professor Layton and the Miracle Mask. To access this puzzle, you must talk to Juggles. In order to solve this puzzle, you must figure out which item's pair has gone missing.
[edit]
Messages
[edit]
When Failed
Too bad.
That piece of equipment's twin must be there too.
[edit]
When Completed
Correct!
The clown is only holding one box, which is part of his juggling act too. Where could the other box be...?
[edit]
Solution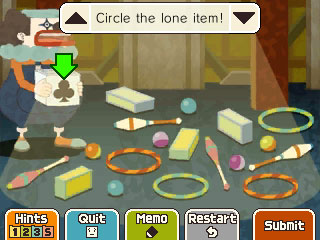 Circle the item as shown.
[edit]
Progress
300 Picarats and 54 Hint Coins.