MM013 - Ancient Arti-facts
This is the thirteenth puzzle you'll encounter in Professor Layton and the Miracle Mask. This puzzle will be accessed automatically while listening to Mr. Collins' class. In order to solve this puzzle, you must match each explorer with the artifact they found, what material it is made from, and how deep it was found.
[edit]
Messages
[edit]
When Failed
Too bad.
Read over the statements carefully and make sure everything fits.
[edit]
When Completed
Correct!
A found a metal blade at 200cm deep.
B found a wooden doll at 150cm deep.
C found a clay pot at 100cm deep.
D found a stone coin at 50cm deep.
Quite a successful expedition!
[edit]
Solution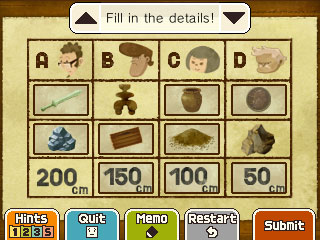 Match each detail as shown.
[edit]
Progress
370 Picarats and 65 Hint Coins.