MM024 - Patterned Apron
This is the twenty-fourth puzzle you'll encounter in Professor Layton and the Miracle Mask. To access this puzzle, you must talk to Lucille. In order to solve this puzzle, you must correctly arrange the flowers on the apron.
[edit]
Messages
[edit]
When Failed
Too bad.
There must be something that can help you to identify each part of the apron...
[edit]
When Completed
"That's my boy!
"This is what the pattern looks like. When the apron is folded up, you can tell which part you're looking at by where the apron straps are and the direction they point.
"I do like the haphazard way the flowers are arranged!"
[edit]
Solution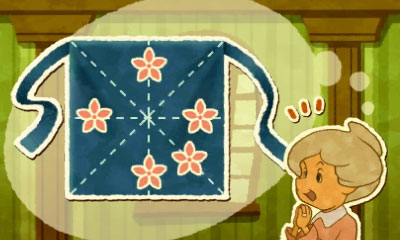 Arrange the flowers as shown.
[edit]
Progress
700 Picarats and 100 Hint Coins.