MM025 - Brave the Caves
This is the twenty-fifth puzzle you'll encounter in Professor Layton and the Miracle Mask. To access this puzzle, you must talk to Mr. Collins. In order to solve this puzzle, you must figure out which caves the explorer must enter.
[edit]
Messages
[edit]
When Failed
Too bad.
Try again before he runs into one of those horrible traps!
[edit]
When Completed
Correct!
If you take a good look at the scenery in the distance of each photo, you can tell where they were taken.
The light will be on the left-hand side of a cave that bends right, and vice versa. With this in mind, you can work out the correct route.
[edit]
Solution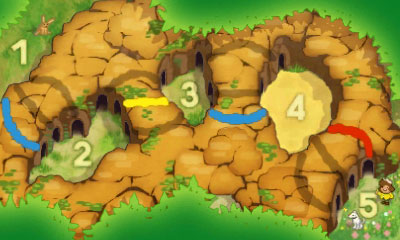 Take the route as shown.
[edit]
Progress
740 Picarats and 100 Hint Coins.