MM027 - That Rings a Bell
This is the twenty seventh puzzle you'll encounter in Professor Layton and the Miracle Mask. To access this puzzle, you must interact with the top-left window. In order to solve this puzzle, you must arrange the order of which the slingshots are shot to ring the bell.
[edit]
Messages
[edit]
When Failed
You cannot fail this puzzle.
[edit]
When Completed
Well done!
The bell rang. Hopefully Randall heard it!
[edit]
Solution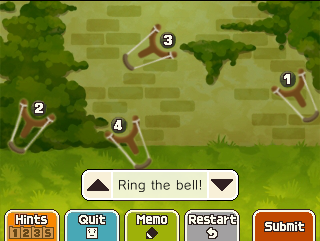 Arrange the shots as shown.
[edit]
Progress
805 Picarats and 108 Hint Coins.