MM036 - Going Dough-Nuts!
This is the thirty-sixth puzzle you'll encounter in Professor Layton and the Miracle Mask. To access this puzzle, you must talk to Yuming. In order to solve this puzzle, you must figure out which doughnuts were glazed by the mother.
[edit]
Messages
[edit]
When Failed
Too bad.
They all look equally delicious, whoever they were made by!
[edit]
When Completed
Correct!
The mother of the family made the second doughnut from the left in the top row and the far-left and far-right ones on the bottom row.
If you look carefully, you'll notice the doughnuts are glazed in slightly different ways. Then it's just a case of finding a group of three doughnuts that match in some way and are different from the rest.
[edit]
Solution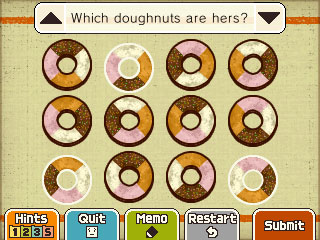 Select the doughnuts as shown.
[edit]
Progress
1115 Picarats and 114 Hint Coins.