MM038 - Pattern Pending
This is the thirty-eighth puzzle you'll encounter in Professor Layton and the Miracle Mask. To access this puzzle, you must talk to Puck. In order to solve this puzzle, you must move the pieces to create a pattern sharing a common feature with the other patterns.
[edit]
Messages
[edit]
When Failed
You cannot fail this puzzle.
[edit]
When Completed
Excellent!
They're all fine examples of an unfolded cube! That's why this pattern would work even if it was mirrored.
[edit]
Solution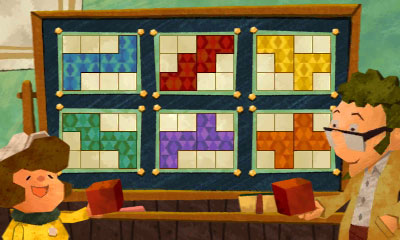 Arrange the pieces as shown.
[edit]
Progress
1180 Picarats and 118 Hint Coins.