MM040 - Crossed Connections
This is the fortieth puzzle you'll encounter in Professor Layton and the Miracle Mask. To access this puzzle, you must interact with the lamp on the far left. In order to solve this puzzle, you must match the cables to each socket.
[edit]
Messages
[edit]
When Failed
Too bad.
All you need to work out is which cable is plugged into which socket.
[edit]
When Completed
Well done!
Cable A goes into socket 3, cable B into socket 4, cable C into socket 1, and cable D into socket 2. Whichever path the cables take within the pipes, the solution is the same.
[edit]
Solution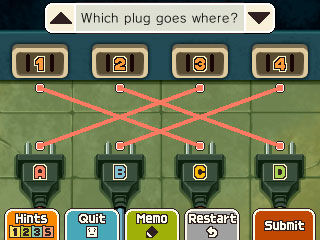 Connect the cables as shown.
[edit]
Progress
1245 Picarats and 130 Hint Coins.