MM042 - Couple at the Café
This is the forty-second puzzle you'll encounter in Professor Layton and the Miracle Mask. To access this puzzle, you must talk to Hanna. In order to solve this puzzle, you must figure out where the photo can be placed in the café without harming the cheerful ambiance.
[edit]
Messages
[edit]
When Failed
Too bad.
It looks as if this calls for a rather unusual way of putting the photo up.
[edit]
When Completed
Correct!
Well, would you look at that! By wrapping it around the column, the photo is transformed into one depicting an amicable toast!
[edit]
Solution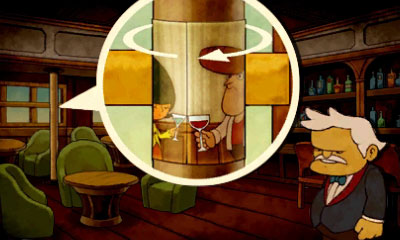 Place the photo as shown.
[edit]
Progress
1325 Picarats and 133 Hint Coins.