MM048 - Lighting Action
This is the forty-eighth puzzle you'll encounter in Professor Layton and the Miracle Mask. To access this puzzle, you must inspect the lights above the stage. In order to solve this puzzle, you must correctly arrange the lighting.
[edit]
Messages
[edit]
When Failed
You cannot fail this puzzle.
[edit]
When Completed
Correct!
So the lights were supposed to be in the shape of the numbers one to eight! The show must go on!
[edit]
Solution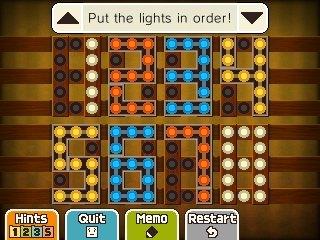 Arrange the lighting as shown.
[edit]
Progress
1550 Picarats and 142 Hint Coins.