MM054 - Archaeological Feet
This is the fifty-fourth puzzle you'll encounter in Professor Layton and the Miracle Mask. To access this puzzle, you must interact with the top shelves of the bookcase. In order to solve this puzzle, you must figure out where each artifact was found.
[edit]
Messages
[edit]
When Failed
Too bad.
Take another good look over the dig site.
[edit]
When Completed
Correct!
You can trace the footprints to work out the order: B, D, C, A, F, and E.
Careful note taking is essential on digs like this!
[edit]
Solution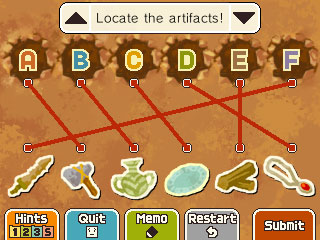 Locate the artifacts as shown.
[edit]
Progress
1750 Picarats and 145 Hint Coins.