MM057 - Stitching Squares
This is the fifty-seventh puzzle you'll encounter in Professor Layton and the Miracle Mask. To access this puzzle, you must talk to Lucille. In order to solve this puzzle, you must stitch red six squares into the cushion, ensuring no two red squares end up in the same row, column, or diagonal.
[edit]
Messages
[edit]
When Failed
Too bad.
You must have placed two red squares in the same row, column or diagonal.
[edit]
When Completed
Correct!
Now you've got a balanced embroidery pattern. From a certain point of view...
[edit]
Solution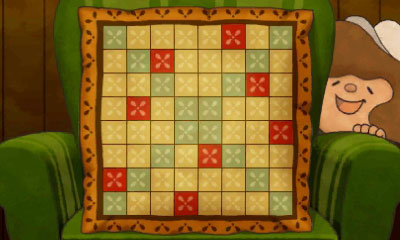 Stitch the red squares as shown.
[edit]
Progress
1875 Picarats and 145 Hint Coins.