MM059 - Flowery Footpath
This is the fifty-ninth puzzle you'll encounter in Professor Layton and the Miracle Mask. To access this puzzle, you must talk to Doug. In order to solve this puzzle, you must arrange the tiles to create a flower pattern.
[edit]
Messages
[edit]
When Failed
You cannot fail this puzzle.
[edit]
When Completed
Well done!
That looks much better!
[edit]
Solution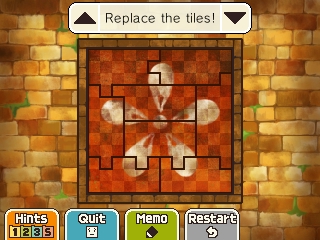 Arrange the tiles as shown.
[edit]
Progress
1945 Picarats and 145 Hint Coins.