MM061 - Padlocked Fence
This is the sixty-first puzzle you'll encounter in Professor Layton and the Miracle Mask. To access this puzzle, you must interact with the fence. In order to solve this puzzle, you must arrange the numbers so that each row, column and diagonal add up to the same number.
[edit]
Messages
[edit]
When Failed
Too bad.
There are more numbers on the backs of the panels. Which numbers do you have to choose from?
[edit]
When Completed
Correct!
There are actually a few valid solutions, but here's one example:
2 1 3
3 2 1
1 3 2
Every line of three digits adds up to six. As each panel has only two possible digits, you don't have many three-digit totals to consider.
[edit]
Solution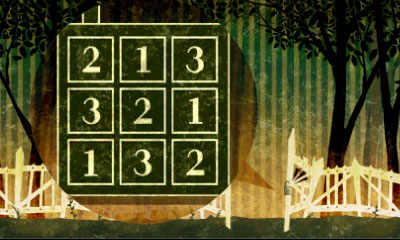 Arrange the digits as shown.
[edit]
Progress
2030 Picarats and 145 Hint Coins.