MM068 - Days of Rest
This is the sixty-eighth puzzle you'll encounter in Professor Layton and the Miracle Mask. To access this puzzle, you must talk to Madame Lapushka. In order to solve this puzzle, you must figure out which day each shopkeeper take as their day off.
[edit]
Messages
[edit]
When Failed
Too bad.
If your plans go awry, the shopkeepers won't be able to have the days off that they want!
[edit]
When Completed
Correct!
They arranged their days off as follows:
Mr. A on Saturday, Mr. B on Tuesday, Ms. C on Friday, Mr. D on Monday, Ms. E on Thursday, Dr. F on Wednesday, and Mr. G on Sunday.
Once you realize that Mr. A's day off must be Saturday, the rest just slot into place one by one!
[edit]
Solution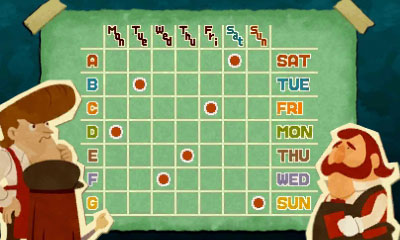 Arrange the days off as shown.
[edit]
Progress
2275 Picarats and 157 Hint Coins.