MM071 - Evenly Matched 2
This is the seventy-first puzzle you'll encounter in Professor Layton and the Miracle Mask. To access this puzzle, you must talk to Mayor Billson. In order to solve this puzzle, you must evenly divide the pawns to make sure at least one black and one white are enclosed in areas of the same shape.
[edit]
Messages
[edit]
When Failed
Never mind.
There are a number of ways to split the area into four - you just need to find the right one.
[edit]
When Completed
Good job!
Now we have four sections of equal size and shape!
[edit]
Solution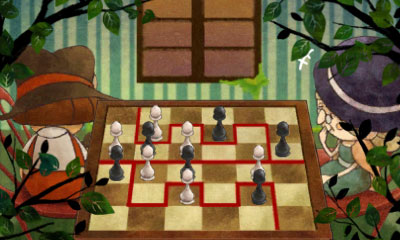 Divide the board as shown.
[edit]
Progress
2385 Picarats and 157 Hint Coins.