MM075 - Grand Horse Race
This is the seventy-fifth puzzle you'll encounter in Professor Layton and the Miracle Mask. To access this puzzle, you must talk to Gustav. In order to solve this puzzle, you must figure out what place each racer came.
[edit]
Messages
[edit]
When Failed
Too bad.
Try and narrow it down who participated in which race.
[edit]
When Completed
Correct!
C came in first, A second, B third, and D came last. D didn't sound very happy about the result, did he?
[edit]
Solution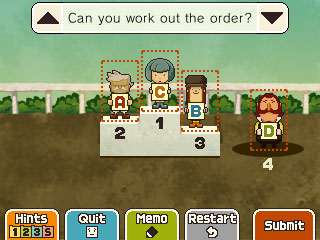 Place the characters as shown.
[edit]
Progress
2540 Picarats and 164 Hint Coins.