MM077 - Mishmash Map
This is the seventy-seventh puzzle you'll encounter in Professor Layton and the Miracle Mask. To access this puzzle, you must talk to Firth. In order to solve this puzzle, you must arrange the map parts to restore it to its original condition.
[edit]
Messages
[edit]
When Failed
Too bad.
It's not too far to go, but the map needs to be fixed completely before it can be used properly.
[edit]
When Completed
Well done!
Now they can get where they're going.
[edit]
Solution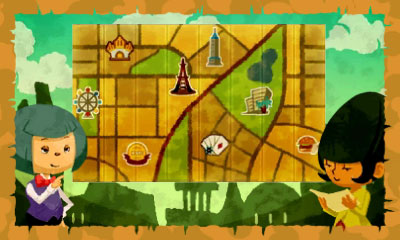 Restore the map as shown.
[edit]
Progress
2615 Picarats and 164 Hint Coins.