MM079 - The Shopkeepers
This is the seventy-ninth puzzle you'll encounter in Professor Layton and the Miracle Mask. To access this puzzle, you must talk to Murphy. In order to solve this puzzle, you must figure out which business belongs to each person.
[edit]
Messages
[edit]
When Failed
Too bad.
Try taking notes for each person.
[edit]
When Completed
Correct!
A runs the café, B the grocer's, C the bookshop, D the cake shop, and E the baker's. By paying close attention, you can rule out which jobs they don't do.
[edit]
Solution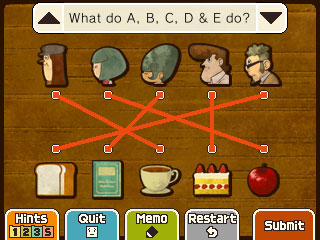 Draw the lines as shown.
[edit]
Progress
2690 Picarats and 164 Hint Coins.