MM080 - Sharing the Burden 2
This is the eightieth puzzle you'll encounter in Professor Layton and the Miracle Mask. To access this puzzle, you must talk to Pascal. In order to solve this puzzle, you must distribute the luggage so that each porter carries an even weight.
[edit]
Messages
[edit]
When Failed
You cannot fail this puzzle.
[edit]
When Completed
Correct!
The solution is for them to share the load. Teamwork is everything!
[edit]
Solution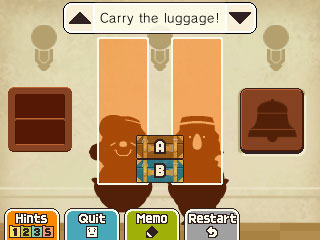 Distribute the luggage as shown.
[edit]
Progress
2720 Picarats and 164 Hint Coins.