MM082 - Rainbow Repair
This is the eighty-second puzzle you'll encounter in Professor Layton and the Miracle Mask. To access this puzzle, you must talk to Gonzales. In order to solve this puzzle, you must apply the tape correctly so that it reflects how it looks from the outside.
[edit]
Messages
[edit]
When Failed
You cannot fail this puzzle.
[edit]
When Completed
Splendid!
Since you're working from the inside, you need to start with the tape at the very front of the design and work toward the back. And, of course, you need to remember that the whole design will be mirrored too.
Hopefully the lady of the manor will be happy with this solution...
[edit]
Solution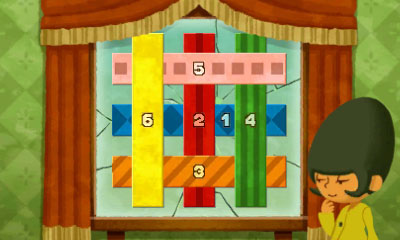 Apply the tape as shown.
[edit]
Progress
2785 Picarats and 164 Hint Coins.