MM084 - Neon Orange
This is the eighty-fourth puzzle you'll encounter in Professor Layton and the Miracle Mask. To access this puzzle, you must interact with the scorpion sign. In order to solve this puzzle, you must light the correct segments while following a certain pattern.
[edit]
Messages
[edit]
When Failed
Too bad.
Have a good look at the lit segments on each circle in turn.
[edit]
When Completed
Correct!
If you compare the circles going clockwise around the sign, one of the lit segments moves four places counterclockwise and other moves two places clockwise in each subsequent circle. So in the top circle, the two lit segments overlap and only one is lit.
[edit]
Solution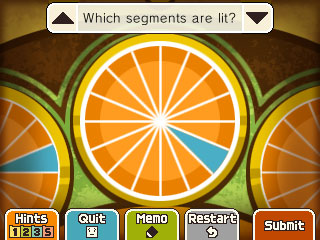 Light the segment as shown.
[edit]
Progress
2865 Picarats and 171 Hint Coins.