MM087 - Merry-Go-Tiles
This is the eighty-seventh puzzle you'll encounter in Professor Layton and the Miracle Mask. To access this puzzle, you must examine the carousel. In order to solve this puzzle, you must rotate the tiles to create twelve horses.
[edit]
Messages
[edit]
When Failed
Too bad.
You must have missed a tile somewhere along the line.
[edit]
When Completed
Correct!
The pattern looks so neat and tidy now that it's all lined up right!
[edit]
Solution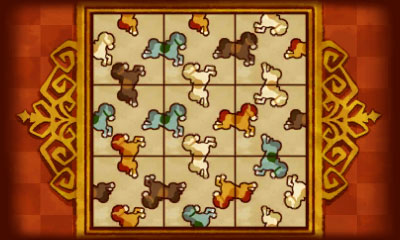 Arrange the tiles as shown.
[edit]
Progress
2970 Picarats and 183 Hint Coins.