MM091 - Totem Tumbler
This is the ninety-first puzzle you'll encounter in Professor Layton and the Miracle Mask. To access this puzzle, you must dig a hole in the Ruins. In order to solve this puzzle, you must arrange the columns into their original positions by using the mallet once.
[edit]
Messages
[edit]
When Failed
You cannot fail this puzzle.
[edit]
When Completed
Well done!
You got the idea. The only way to do it in one hit was to lean the whole base to one side. Sometimes it's good to think outside the box!
[edit]
How To Solve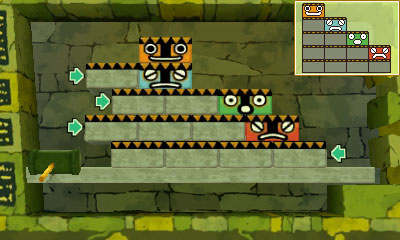 Hit the crack shown above in the foundation.
[edit]
Progress
3150 Picarats and 194 Hint Coins.