MM094 - Cursed Case
This is the ninety-fourth puzzle you'll encounter in Professor Layton and the Miracle Mask. To access this puzzle, you must dig a hole. In order to solve this puzzle, you must fit the stone blocks back into the case so that it will close.
[edit]
Messages
[edit]
When Failed
Too bad.
Remember that fitting every block into the case isn't enough - you also need to be able to close it, so the studs and holes must line up properly.
Quick, try again before it's too late!
[edit]
When Completed
Well done!
It looks as if you've saved the day!
For now, at least...
[edit]
Solution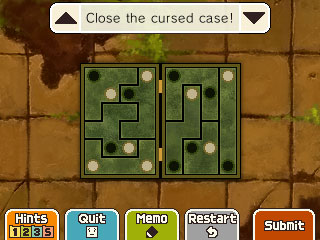 Arrange the stone blocks as shown.
[edit]
Progress
3270 Picarats and 200 Hint Coins.