MM101 - Wonky Wiring
This is the one hundred and first puzzle you'll encounter in Professor Layton and the Miracle Mask. To access this puzzle, you must talk to Pascal. In order to solve this puzzle, you must fix the wiring.
[edit]
Messages
[edit]
When Failed
Too bad.
Have you got your wires crossed? Remember, you want to connect square to square, and cross to cross.
[edit]
When Completed
Correct!
The radio's fixed! Nothing like a good tune to liven up the atmosphere.
[edit]
Solution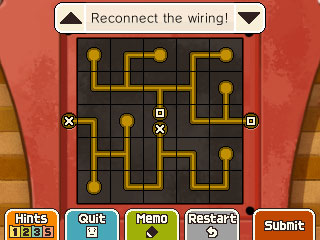 Fix the wiring as shown.
[edit]
Progress
3560 Picarats and 211 Hint Coins.