MM108 - Balls and Boxes
This is the one hundred and eighth puzzle you'll encounter in Professor Layton and the Miracle Mask. To access this puzzle, you must talk to Juggles. In order to solve this puzzle, you must arrange the boxes to allow the ball to pass through each one once, ending with the one on the far right.
[edit]
Messages
[edit]
When Failed
You cannot fail this puzzle.
[edit]
When Completed
Magic!
From left to right, the order is:
♦2, ♦3, •1, •3
Circles make the ball move to the left, and diamonds to the right, by the number of spaces indicated on the box.
[edit]
Solution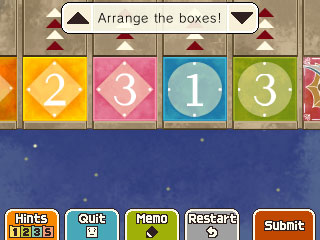 Arrange the boxes as shown.
[edit]
Progress
3990 Picarats and 214 Hint Coins.