MM109 - Fishy Triangle
This is the one hundred and ninth puzzle you'll encounter in Professor Layton and the Miracle Mask. To access this puzzle, you must talk to Guy. In order to solve this puzzle, you must figure out where to make a single cut, using the two pieces to form a triangle.
[edit]
Messages
[edit]
When Failed
Too bad.
You only need to cut it into two pieces, remember.
[edit]
When Completed
Gold on you!
If all goldfish could turn into triangles, they'd have far fewer natural predators!
[edit]
Solution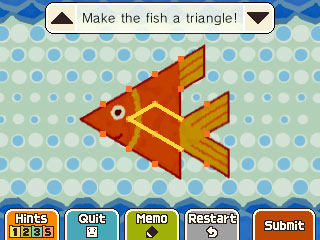 Make a cut as shown.
[edit]
Progress
4035 Picarats and 214 Hint Coins.