MM110 - Cozy Cabins
This is the one hundred and tenth puzzle you'll encounter in Professor Layton and the Miracle Mask. To access this puzzle, you must talk to Tanya. In order to solve this puzzle, you must figure out which cabin would be the cheapest for the whole family to stay in.
[edit]
Messages
[edit]
When Failed
Too bad.
Perhaps you could try reading the question again, in case you missed something.
[edit]
When Completed
Correct!
The answer was cabin B. The only cabins that the whole family can fit in are cabins B and D, and B is the cheaper of the two.
If only they could sleep standing up, maybe they'd be able to stay in an even cheaper one?
[edit]
Solution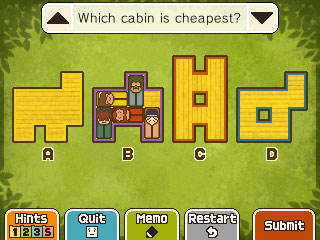 Arrange the family as shown.
[edit]
Progress
4065 Picarats and 214 Hint Coins.