MM113 - Chip Champions
This is the one hundred and thirteenth puzzle you'll encounter in Professor Layton and the Miracle Mask. To access this puzzle, you must talk to Humbert. In order to solve this puzzle, you must identify which stacks of chips belong to whom.
[edit]
Messages
[edit]
When Failed
Too bad.
You could probably say that for the people at the casino too...
[edit]
When Completed
Correct!
Stack 4 belongs to A, stack 3 to B, stack 5 to C, stack 2 to D, stack 6 to E, and stack 1 to F. D's and E's comments are the key to solving this puzzle.
[edit]
Solution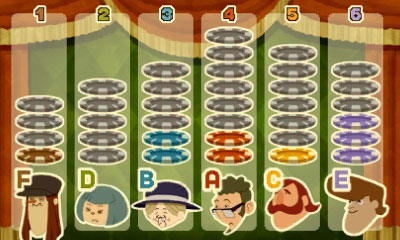 Match the people to the chips as shown.
[edit]
Progress
4540 Picarats and 214 Hint Coins.