MM119 - Fairly Shared Squares
This is the one hundred and nineteenth puzzle you'll encounter in Professor Layton and the Miracle Mask. To access this puzzle, you must talk to Madelaine. In order to solve this puzzle, you must divide the chocolate so that each portion is of the same shape, and each contains a piece with an almond in it.
[edit]
Messages
[edit]
When Failed
Too bad.
We don't want any sibling rivalry here. Try to divide it up equally.
[edit]
When Completed
Correct!
Dividing the chocolate as shown will ensure that each sibling gets a fair share of this tasty treat.
[edit]
Solution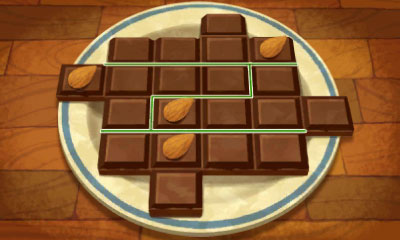 Divide the chocolate as shown.
[edit]
Progress
4260 Picarats and 214 Hint Coins.