MM123 - Weighted Marbles
This is the one hundred and twenty-third puzzle you'll encounter in Professor Layton and the Miracle Mask. To access this puzzle, you must talk to the policeman. In order to solve this puzzle, you must arrange the marbles so that each line adds up to 34 grams.
[edit]
Messages
[edit]
When Failed
Too bad.
Something doesn't add up.
[edit]
When Completed
Correct!
Each line weights 34 grams!
[edit]
Solution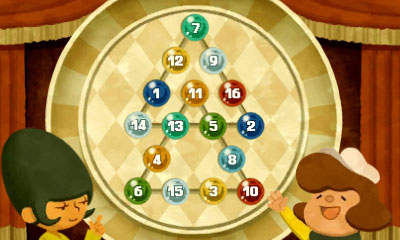 Arrange the marbles as shown.
[edit]
Progress
4455 Picarats and 214 Hint Coins.