MM129 - A Sweeping Solution
This is the one hundred and twenty-nineth puzzle you'll encounter in Professor Layton and the Miracle Mask. To access this puzzle, you must talk to Yuming. In order to solve this puzzle, you must figure out which room is always passed through at the same point no matter which route is taken.
[edit]
Messages
[edit]
When Failed
Too bad.
Have you considered all the possible routes?
[edit]
When Completed
Correct!
The large central room on the left-hand side is the only room that stays in the same position no matter the route.
Use the wall between the two central rooms to divide the suite into two halves. There are several routes, but no matter whether you start on the left or the right, this room will always be the seventh room you pass through.
[edit]
Solution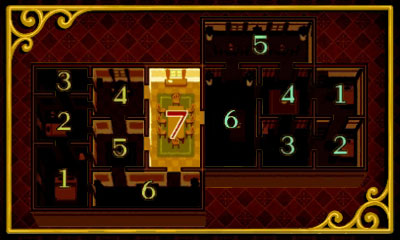 Select the room as shown.
[edit]
Progress
4710 Picarats and 234 Hint Coins.