MM131 - Jewels to the Lock
This is the one hundred and thirty-first puzzle you'll encounter in Professor Layton and the Miracle Mask. To access this puzzle, you must interact with the seating on the right. In order to solve this puzzle, you must figure out which jewel must be rotated to open the book.
[edit]
Messages
[edit]
When Failed
Too bad.
Pay attention to the shape of the jewels.
[edit]
When Completed
Correct!
You need to rotate the top-left arrow so that it's pointing to the right.
Each jewel is placed so that the arrow is pointing to one other jewel.
If you trace a route from one arrow, you'll eventually end up back where you started.
[edit]
Solution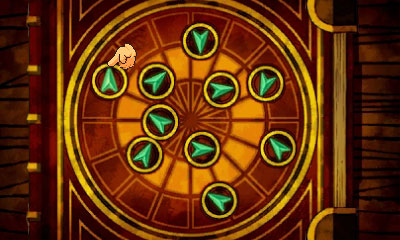 Rotate the following arrow.
[edit]
Progress
4790 Picarats and 246 Hint Coins.