MM132 - Stealth Night
This is the one hundred and thirty-second puzzle you'll encounter in Professor Layton and the Miracle Mask. To access this puzzle, you must interact with the seating. In order to solve this puzzle, you must seat the policemen so that they share a full view of the theater.
[edit]
Messages
[edit]
When Failed
Too bad.
Don't just guess; try to find the answer through logic.
[edit]
When Completed
Correct!
This arrangement will cover the whole theater. Now the show can go on in safety!
[edit]
Solution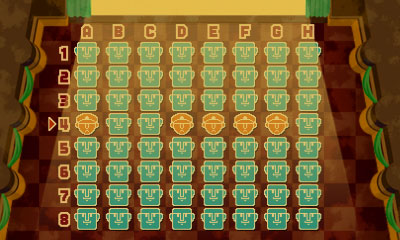 Arrange the policemen as shown.
[edit]
Progress
4830 Picarats and 250 Hint Coins.