MM134 - Breaking the Seal
This is the one hundred and thirty-fourth puzzle you'll encounter in Professor Layton and the Miracle Mask. To access this puzzle, you must interact with the manhole cover behind the monument. In order to solve this puzzle, you must arrange the slabs so that each column, row and diagonal contain different facing arrows.
[edit]
Messages
[edit]
When Failed
You cannot fail this puzzle.
[edit]
When Completed
Correct!
Now let's see what's beneath that manhole!
[edit]
Solution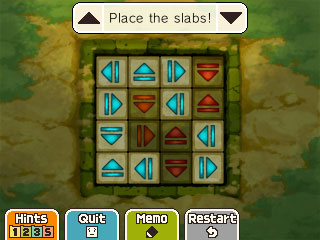 Arrange the slabs as shown.
[edit]
Progress
4925 Picarats and 250 Hint Coins.