MM137 - Cursed Case 2
This is the one hundred and thirty-seventh puzzle you'll encounter in Professor Layton and the Miracle Mask. This puzzle can be accessed through Professor Layton's Challenges. In order to solve this puzzle, you must fit the stone blocks back into the case so that it will close.
[edit]
Messages
[edit]
When Failed
Too bad.
The blocks may all be in the case, but are the studs and holes aligned properly?
You have to close that case before it's too late!
[edit]
When Completed
Well done!
You've saved the day again!
You do wonder what kind of "terrible things" could be "unleashed" if you left the case alone, though...
[edit]
Solution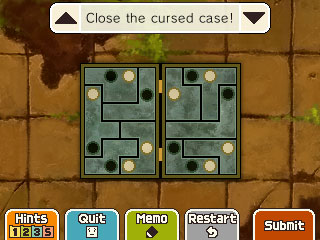 Arrange the blocks as shown.
[edit]
Progress
5115 Picarats and 250 Hint Coins.