MM140 - Evenly Matched 4
This is the one hundred and fortieth puzzle you'll encounter in Professor Layton and the Miracle Mask. This puzzle can be accessed through Professor Layton's Challenges. In order to solve this puzzle, you must evenly divide the pawns to make sure four black and four white pawns are enclosed in areas of the same shape.
[edit]
Messages
[edit]
When Failed
Oh well.
Are you positive that each section was the exact same shape and had four white and four black pawns?
[edit]
When Completed
Bravo!
You did a splendid job of dividing up the board!
[edit]
Solution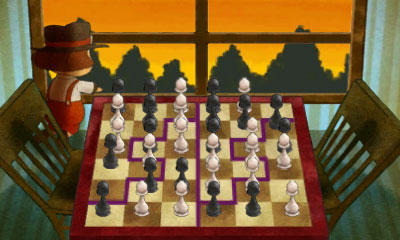 Divide the board as shown.
[edit]
Progress
5325 Picarats and 250 Hint Coins.